Mobility Solutions in terms of more enterprise focused collaborative platforms to support subscription models in the car industry have created a growing demand for flexible and convenient solutions.
Today's market offers a variety of mobility solutions ranging from mobility-as-a-service and car sharing concepts, to subscription models. These models all have one thing in common: In order to succeed, the platform from which the models are managed needs to be flexible, transparent and accessible.
All this to address the needs of today's mobility customers, which are characterised by less attachment to their car as a material possession and more focused on the immaterial values that mobility as a service provides – freedom and convenience.
The choice of platform is key
When looking at the subscription and short-term leasing industry, the market is growing. This means that for an organisation to constantly be on top of the service, they must have a platform to oversee all vital parameters to most efficiently create a value-adding chain both for customers and their organisation.
This also means incorporating all data you need at a car level as well as user data, to centrally control all aspects of this user-centric service model. It requires a centrally controlled, structured process management tool, to oversee these new service models.
One platform needs to manage everything
In short: Fleet owners need one platform to tie all processes and data together to deliver a service that is competitive in the mobility market. This enables providers to offer their customers a ready stock to choose from, at any given time. This also means that how they manage their stock is key, to succeed with this business model.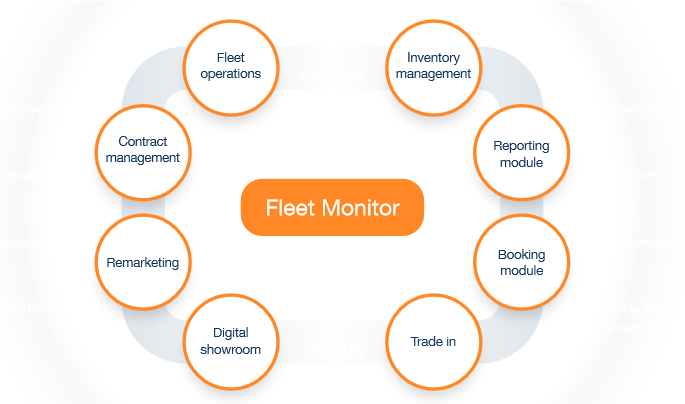 "Now how do I equip my business to accommodate these needs if I want to be a significant player in this market ?" will be the question on most fleet owners' agenda. The answer is simple: make it simple.
Workflow management tool
Autorola Solutions has many years of experience within enterprise mobility solutions and its software is a result of this. The team knows the market and is dedicated to always meeting the needs of its clients with a fully customisable and integrable workflow management tool – specifically designed to keep on top of your business.
"We do this by connecting your business into one digital landscape. In this process we work with you, reinvent your business processes, giving access to information, which is relevant and important at any given point in time. This is designed to increase productivity at a decreasing cost. We call this Fleet Monitor.
"Fleet Monitor is a modular-based software system that allows you to freely configure the flows, interaction points, gateways, actions and total stock overview into one platform.
"In short: Integrate your entire value-chain from acquisition and in fleet, to communication to customers, logistic and supplier companies, to active use and multiple subscription periods to de-fleet and disposal, in an easy-to-use and real-time platform, for making your business as transparent and efficient as possible," said Maria.
Unlocking value in data
Autorola's main focus is a major transformation to unlock values in data. Then deliver user-centric data that 'transforms a system of data to a system of engagement.'
The Fleet Monitor platform is designed around a well-planned structure comprising of the solutions to the existing problems in this model. Typically, each project starts with a Business Value Assessment workshop to shape a clear idea about what the strategy should be.
To structure and deliver information where it is required and when it is required
To integrate technology, people and processes for efficient and effective delivery of the core business functions within the organisation around a product offering
To aim to offer solutions to the focus areas of an organisation and to develop efficient processes for users of the system and end-customers.
Autorola Solutions offer a customised platform to integrate the modules that you need to succeed in your business. It will always reflect the way YOU do business and support your operations.
"The whole idea is to simply put people, processes, and technology together in one platform, which facilitates managing operations and services within the context of a business. Our solutions aim at getting the work done in a digital context and is based on technology, which offers a powerful platform in terms of collaboration and productivity said Maria."
Especially in the short-term leasing industry, the need for instant overview, efficient stock management and collaboration is key to succeed where availability and convenience are main drivers for customers.