Autorola Solutions is advising its customers to 'keep moving' in a bid to support business finances, and more specifically cashflows, as the remarketing industry continues to settle post-pandemic.
With digitisation and automation now playing a central role in running fleets, Autorola Solutions believes profitability and efficiency are two key and immediate areas which can be influenced significantly as a result.
Delays in selling assets impacts cashflow
Ib Kimose, director, Autorola Solutions, said, "Cost saving is a central issue in vehicle fleet management and every fleet manager wants to achieve large returns with low costs.
"Each day an asset is standing still on the compound without moving onwards in the flow, it depreciates, while at the same time accruing cost to storage.
"Delays impact largely on fleet management businesses and is directly linked to the final sales price and margin obtained. This has a direct impact on cashflow."
Work intelligently with data
He continued, "Working intelligently with data allows you to monitor on any gateway your flow and allows you to freely configure your focus areas; from timely call back of your cars on the road, to actual returns, return inspections, sales preparations to online listing of cars and the aftersales processes."
Autorola Solutions' insight highlights that fleet managers agree that they spend too much time reporting work times and the most frustrating aspect of fleet management is the high cost throughout the lifecycle of the asset and long lead-times.
Asset life cycle stages
"It is important to stay connected to your stakeholder landscape; customers and drivers, as well as suppliers and business partners, all play an important role in the different stages of the asset life cycle," explained Ib.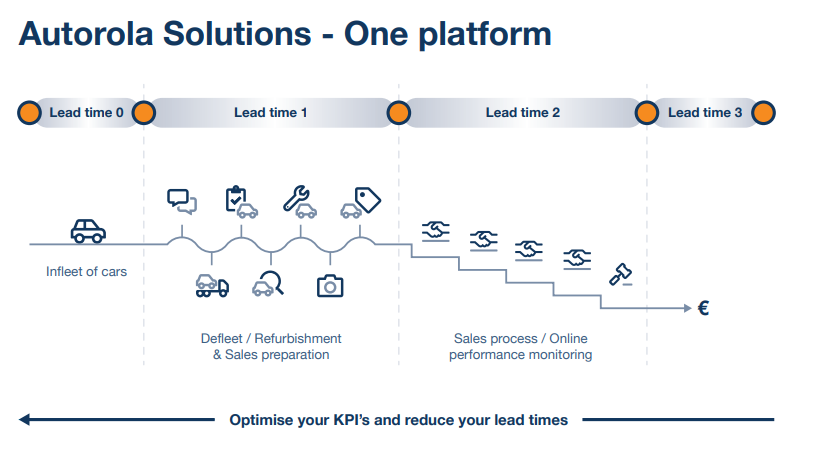 "Thus, boosting productivity collectively is important. Fleet Monitor is both a process management tool and a collaborative platform with communication options – designed to simplify every part of your fleet and resource management."
Lean fleet management
Autorola Solutions offers lean fleet management based on state-of-the-art online systems that work together to support efficient fleet management processes from acquisition to disposal for fleet, OEM, bank, leasing companies and dealer groups.
Fleet Monitor has been proven to help businesses streamline processes, improve efficiency and performance, as well as ensure all activities are compliant. The collaborative platform provides users with a powerful tool to reduce operational costs and mitigate both operational and financial risks, and its communication module is an integral part of creating a service-minded platform.